Iván González-Díaz received the Telecommunications Engineering degree from Universidad de Valladolid, Spain, in 1999, the M.Sc. and Ph.D. degree from Universidad Carlos III de Madrid, Madrid, Spain, in 2007 and 2011, respectively.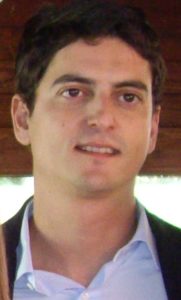 After holding a post-doctoral position in the Laboratoire Bordelais de Recherche en Informatique at the University of Bordeaux (2013), he currently works as a Visiting Lecturer at the Signal Theory and Communications Department in Universidad Carlos III de Madrid (since 2015). He has also made other research stays at Centre for Digital Video Processing, Dublin City University (2007), and Laboratoire Bordelais de Recherche en Informatique, University of Bordeaux (2017).

His primary research interests include visual recognition, image segmentation, scene understanding, content-based image and video retrieval systems and action prediction in video. In this fields, he has collaborated in 16 R&D projects funded by competitive calls, 2 of them by the European Comission, and 12 contracts with companies in the technology sector. He has also been coordinator in two research projects funded by companies. 

He is co-author of a dozen papers in prestigious international journals, two chapters in international books and a few papers in revised international conferences. He has tutored 7 MSc students, 12 graduate students and is currently co-supervising 5 PhD students. He regularly acts as reviewer in several primer journals such as IEEE Trans. on Circuits and Systems for Video Technology, IEEE Trans. on Multimedia, o IEEE Signa Processing Letters.