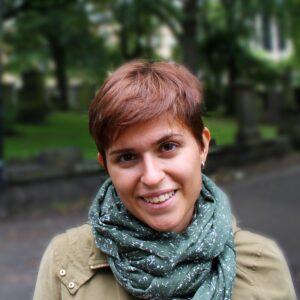 Esther Rituerto-González earned her Eng. degree in Audiovisual Systems from the University Carlos III Madrid (2017) and her Master's degree in Multimedia Communications from University Carlos III Madrid (2018) with Specialization in Signal Processing and Data. She has been associated with the Signal Theory and Communications Dept. at Univ. Carlos III of Madrid since 2016. She also owns a three year course in dubbing formation.
She is currently working on her Ph.D. in the field of Speech Technologies in the Group of Multimedia Processing of the Univ. Carlos III Madrid. At present she is participating in the EMPATIA-CM Project from the UC3M4Safety Group, where they are developing a wearable solution that will detect a user's panic, fear and stress through physiological sensor data, speech and audio analysis, machine-learning algorithms and multimodal data fusion, for gender-violence detection and prevention.
Her interests rely in very different research communities focusing on Computer Science categories, such as Affective Computing, Speech Communications, Speaker Recognition, Emotions in Speech, Biosignals Processing, Artificial Intelligence and Deep Learning.
More details about her recent activity can be found in LinkedIn and ResearchGate.